Theme underground train "Jiangxi Open"
Hits:
Release Time:2017-07-28 14:41:00
In 1863, the world's first underground railway opened in London;
In 1969, China had its first underground railway in Beijing;
In 2015, Jiangxi's first underground railway ran in Nanchang.

On 5th July 2017, Jiangxi Open welcomed its own themed underground train, "Jiangxi Open". This is China's first special underground train for tennis.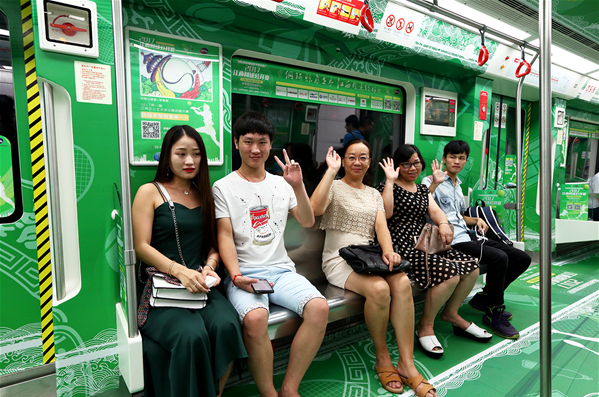 "Jiangxi Open" contains abundant tennis elements in its design. Its theme colour is green, and it uses tennis related graphs in its decorations. These designs aim to increase public' interest on tennis sports and promote tennis culture. It also has photos of players on court. There the five Chinese "Golden Flowers" with the highest rankings, Shuai Zhang, Shuai Peng, Qiang Wang and Yingying Duan, as well as international players Jelena Jankovic and Kristyna Pliskova. Meanwhile, there also are schedule and other information of Jiangxi Open 2017. It appeals passengers to watch Jiangxi Open 2017 at the Nanchang International Stadium.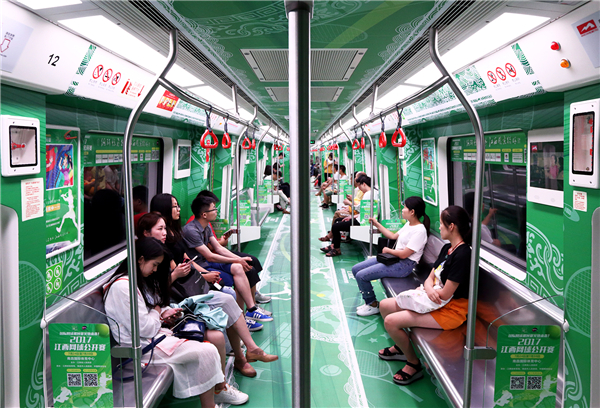 The adversitising board pulisise over 30 paintings of Jiangxi Open' little painters. These are excellent works in the first Jiangxi Open Children Artist Competition jointly organised by the organising committee of Jiangxi Open and Jiangxi Children's centre. During 24th to 30th of July, over 600 paintings will be exhibited outside the tennis stadium of the Nanchang International Sports Centre.